about Thermal Tracker
In continuous operation since 1995, Thermal Tracker Paragliding is the oldest paragliding school in southern Oregon.
As a full-service school, we offer:
Our mission: We enlist the best teaching practices and quality equipment to support pilots in achieving mastery, safety, and enjoyment in paragliding.
Kevin Lee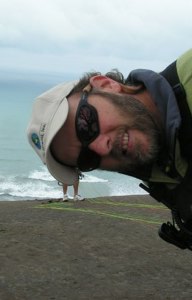 Kevin Lee started flying in 1988, and learned to paraglide in 1993. In his second year, he started his instructor apprenticeship and has since gained a thorough understanding of the teaching practices unique to paragliding. He currently holds Advanced Instructor, Tandem Instructor, and Tandem Administrator ratings through the United States Hang Gliding & Paragliding Association. He is also skilled in motorized paragliding instruction. In 2006 he was awarded "Instructor of the Year" by USHPA.
Kevin has a unique and naturally effective way of teaching. He prides himself in connecting and communicating with his students deeply to help them gain real confidence and learn to fly safely with full passion for the sport. Since every student is different, he adapts his teaching style and techniques to work within each person's unique personality, comfort zone, and ability.